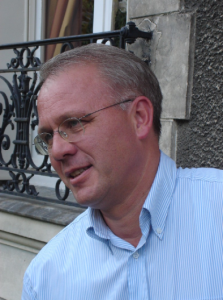 It all started one fine summer in our holiday home in Touraine, alternating reading Balzac's " Lys dans la Vallée " and taking walks in the areas described in the novel. Already enthused by what was to me until then just a weekend hobby in Paris, discovering its districts, monuments and museums, I decided to carry out this hobby in Touraine also.
After 36 years working with an international group, holding various positions in Paris and abroad, I chose to retire early and start a new career, and I now devote myself full time to this new job as a professional tourist guide.
My choices are decidedly eclectic:
• Paris "Ville Lumière", a privileged field for tremendous change at all levels in the nineteenth and twentieth centuries : political, economic, scientific, and yet still so current ...
•I have crisscrossed the Touraine, our holiday destination on foot, bike, and canoe for the past ten years and I just finished off a university course there on how to become a professional tourist guide. What attracts me to this "Vallée des Rois", where we see the politics of the kingdoms of France and England intertwined over the centuries is as much the castles as the mundane homes and landscapes that witnessed the inhabitants' professional, cultural and recreational activities.
After my one-year course professional to become a tourist guide in Saumur, combining theory (art, history, architecture,...), languages with practice (guiding activities during study tours and internships), I now provide visits in Paris as well as in Touraine, combining the discovery of history, architecture and works of art with that of the activities of its inhabitants (work, leisure) and culture (crafts art , literature, music, film, comics, ... ).
This blog is meant as a communication media around these visits, so I hope you enjoy reading it and thank you in advance for your contributions!