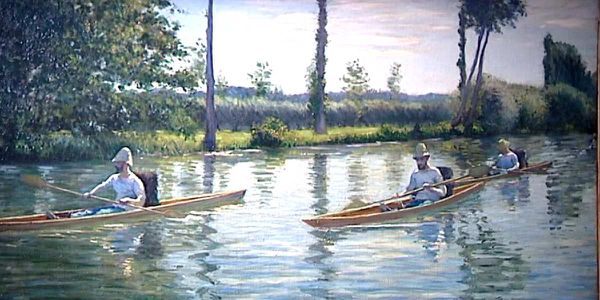 Guy de Maupassant, born August 5, 1850 at Miromesnil castle in Tourville-sur-Arques in Normandy and died July 6, 1893 in Paris, was a recognized author in his lifetime and its reputation endures today through the many filmed adaptations of his work. His six novels: Une vie in 1883, Bel-Ami in 1885, Pierre et Jean from 1887 to 1888, and especially his short stories: Boule de Suif in 1880, Contes de la Bécasse (1883), Le Horla (1887) hold the attention by their realistic force the significant presence of the fantastic and pessimism that emerges most often, but also the mastery of his style. Maupassant's literary career is limited to a decade (1880 -1890); suffering from syphilis, he sinks slowly into insanity and dies shortly before his forty-third birthday.
Maupassant saw Flaubert as his teacher and was very close to Emile Zola; a friend of academic painters such as Gervex and naturalists like Courbet, he will witness the impressionist revolution. He shares with them two of his favorite themes: water and Normandy, his native region hosting painters coming to paint from nature through the development of the railway and paint tubes. Normandy has an important place in the works of Maupassant by its landscapes countryside, sea, cities - Rouen (Une vie) and Le Havre (Pierre et Jean) and its inhabitants: peasants (In the fields), small nobility (Une vie) or petty bourgeois (Pierre et Jean). The water and the reflections of light, important themes for the Impressionists, is also very present: the sea (A life, Peter and John), rivers and marshes particularly the Seine at Bougival, Argenteuil (Sur l'eau, Mouche, Une partie de campagne), there reflecting alternatively a soothing element or a dark force. Maupassant also cruises the Mediterranean on his yacht called "Bel-Ami" from the name of his novel; he visits Cannes, Agay and Saint-Tropez, later to become the favorite places for the Fauvists (Manguin, Marquet, Matisse) and Bonnard.
Furthermore, Maupassant focuses on describing the Paris of his time with its different socially defined districts frequented by business social circles as well as prostitutes -official or not-, joining in this painters like Degas, Manet, and of course Toulouse Lautrec which he described in his stories and novels (Boule de Suif, La Maison Tellier, etc.). It is still possible today by strolling the neighborhood of the Chaussee d'Antin to find the cafes frequented by Duroy and his conquests in Bel Ami.
Maupassant is a pessimist who blames everything that can inspire confidence in life, religion or progress. Even friendship seems to him an odious deception: men impenetrable to each other are doomed to loneliness. A major focus of his work is insanity which he feels the attacks from the late 80's (Le Horla Lui ?, La Chevelure, ou Mademoiselle Hermet which begins with these revealing words "insane people attract me" ...) and finally the death and destruction (Une vie, Bel-Ami, La Petite Roque, Fort comme la mort). He joins in this painters such as Eugène Carrière and Odilon Redon and announces the Surrealists
Maupassant's variety of topics, the personal worldview that emerges from his works and a concise, dynamic and expressive writing place him among the leading prose writers of the XIXth century and witnesses of the pictorial revolutions of his time. He remains the most significant of French short stories writers and the success of his works continues unabated to this day.