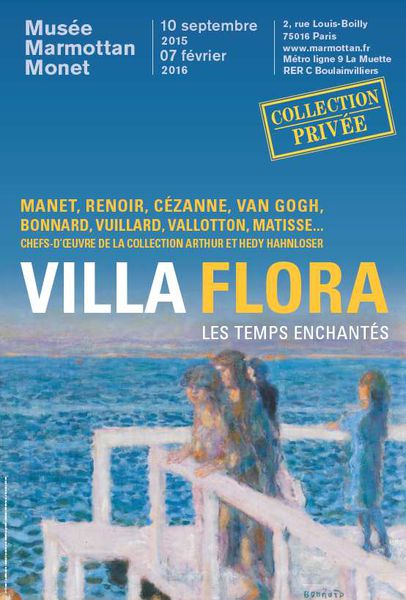 Arthur and Hedy Hahnloser Bühler (1870-1936), both from families of textile factory owners in Winterthur (near Zürich) form one of the most significant couples of art lovers and artists' friends in the 20th century. Hedy, who followed courses in painting and practices the decorative arts and Arthur, ophthalmologist, began their collection in the early twentieth century by focusing on the works of unconventional contemporary artists under the sign of color; they will ignore the already too expensive Impressionists and the not so colorful Cubists. They first turn to Swiss artists like Hodler and Vallotton who will in turn guide them towards French painters – Paris at that time was the world capital of art - like Fauvists (Manguin, Matisse Marquet), Nabi (Bonnard) and Symbolists (Odilon Redon).
The Villa Flora in Winterthur suburbs is appointed with a skylight gallery to house the collection which includes works that will sometimes cause scandal with the local bourgeoisie as "la Blanche et la Noire" by Vallotton); they will also entertain there during WW1their painters friends such as Bonnard and Manguin. After WW1, they buy a villa in Cannes, where they receive the many painters to stay in the area and continue to collect their works.
They will also purchase major work of deceased artists (Manet, Renoir, Cezanne) for their collection from art galleries (Bernheim Jeune in Paris, Paul Vallotton in Lausanne) or from auctions.
After the death of Arthur in 1936, Hedy will publish a monograph on Vallotton. Hahnloser Emil's brother Arthur is also a great collector; after his death in 1940 his collection which includes "Le Semeur" by Van Gogh, joins the Villa Flora.
Their son Hans an art historian and daughter Lisa devote their lives to the collection for which a foundation is created to avoid fragmentation ; Robert and Verena Steiger-Jäggli, a granddaughter of the Hahnlosers' opens Villa Flora as a museum in 1995.
Since 2014; the villa is closed to the public and the collection lent to various European museums (after Paris Hamburg, Halle and Stuttgart); So we have until February 7 the unique opportunity to see a homogeneous collection of works such as it was intended by the collector couple and the painters who helped them.
Musée Marmottan Monet - Paris - France
Pré³¥ntation d'æ²¥s de Claude Monet et de peintres impressionnistes, empire, enluminures sur Paris