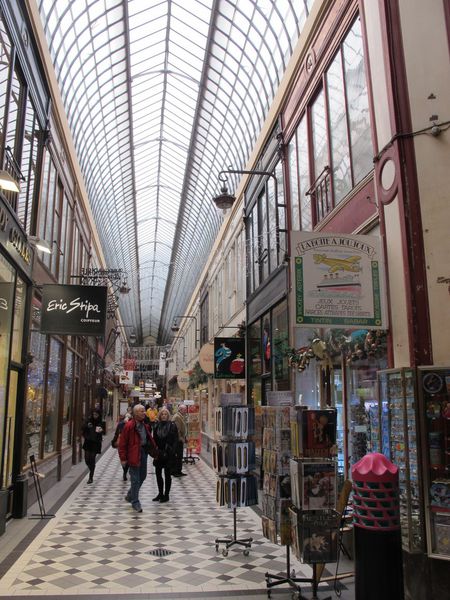 It is the huge success of the galleries built by Philippe d'Orléans around the Palais Royal in the late 18th century that launched the concept of a covered place where rich clients can meet, which made a foreigner travelling to Paris report : "Paris is the center of France, but the Palais Royal is in the center of Paris, there you can find everything you may want."
In its galleries, 180 bays welcome all kinds of fashionable shops as well as cafes or restaurants such as Corazza coffee or Véfour - which has kept its 18th century decor; there are also the national scene "Comedie Française" and the "Theatre du Palais Royal". Upstairs gambling houses and boudoirs where prostitutes exercising their trade can be found.
An example of commercial planning
During the following century, the textile industry is developing ever more sophisticated and expensive products: taffeta, velvet, lace, for affluent and trendy clients repugnant to take central Paris' muddy and crowded streets and claiming their own sheltered and safe places for shopping.
At that time, the confiscation of Church property released land and new metal construction techniques made possible the construction of covered streets lit by large windows rivaling wealth in their ornamentation.
Covered passages housed luxury shops, cafes, hotels, reading rooms where newspapers are borrowed for a small fee and became the center of Paris sociability during the Restoration.
Up to 150 walkways will be found in Paris in the 1850s (especially on the right bank between the major boulevards and the Seine) and the model will be exported to major cities in France (passage Pommeraye in Nantes) and Europe (Brussels, Milan).
The new thoroughfares introduced by Haussmann under the Second Empire lead to demolish many passages and provided a solution to congestion; Parisians can stroll safely on the wide sidewalks. The new department stores built along them introduced a competition that sidelined passages for long.
Some passages have been renovated recently to accommodate fashion boutiques (Louboutin in Galerie Vero-Dodat, Jean-Paul Gaultier in Galerie Vivienne), yet each passage has its specialty: paintings, books, philately...
The most beautiful passages we discovered during our walk on Thursday, January 15, surround the Palais Royal (Galerie Vero-Dodat, Vivienne) as well as both sides of the Boulevard Montmartre between the Rue Montmartre and Richelieu Drouot metro stations (passage des Panoramas, Jouffroy, Verdeau).