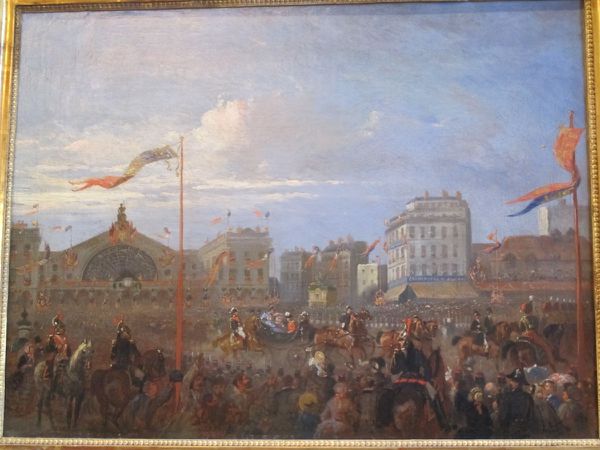 During the sixty years that have elapsed from the beginning of the Second Empire to the First World War, Paris has attracted celebrities from all over Europe and has earned the nickname "City of Light".
These years have seen the development of a new Paris: Napoleon III entrusted Haussmann with the task of cleaning up and debottlenecking the city. Surrounded by the best contributors: Eugène Belgrand for water supply and sewage system, Jean-Charles Alphand, for walks and gardens, Haussmann benefits from a law authorizing the expropriations by decree, the financing of the work partly by the State and the use of public borrowing. In its planning project Haussmann advocates three main principles: linear avenues, ordinance of the buildings and perspectives on monuments; he created the wide tree-planted boulevards lined with buildings of homogeneous dimensions rivalling only in the richness of their decoration that epitomize Paris.
Reflecting the strong faith in progress of that time, the five World Expos have also been brought about deep transformations in Paris:
• the 1889 Expo saw the construction of the Eiffel Tower so disparaged at the time, however, has since become the symbol of Paris in the eyes of the world,
• For the 1900 Expo, the Petit and Grand Palais were built and the Orsay, Invalides and Lyon railway stations and the metro line n°1 from Porte de Vincennes to Porte Maillot was inaugurated.
The visit of the Carnavalet Museum collections: paintings, furniture and decor evokes an era rich in both political– from one republic to the other via the Empire, and economic transformations – with the industrial revolution in full swing and the agricultural one just beginning - albeit not smooth and without victims. At the same time the world of painting is revolutionized by the birth of Impressionism, then photography (art or industry?) while theatre, opera and other musical performances - become increasingly popular.
This will help our approach of an era that profoundly affected the districts of Paris that we will discover during our next visits.
Imperial Prince cradle 1853 - Gambetta leaving besieged Paris - Vitrail Art Nouveau stained glass - Hôtel de Wendel drawing room
To enrich the devices of mediation, modernize the system of showcases and lead operations of preventive conservation, the rooms of the French Revolution will be closed of October 21st, 2014 till the